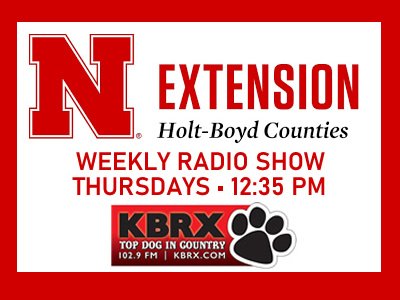 Note: click on the
button for Full Screen; then click on the CC button for Closed Captioning and so that you are able to read the captioning.
This is Amy Timmerman with this week's Extension Update.
Alfalfa weevil larvae have been reported feeding in alfalfa in southeast Nebraska. As temperatures warm up, appearances in northern Nebraska in the next two weeks will occur. The larvae of alfalfa weevils feed on first cutting alfalfa as larvae, and adults (and sometimes larvae) feed on the regrowth after the first cutting.
Even with the pressure of planting row crops, it is essential that producers growing high quality alfalfa hay make time to monitor fields for weevils now and over the next several weeks. In the northern tier of counties, there may be two flushes of weevil larvae this spring, leading to regrowth damage after the first cutting. Observations indicate the cause may be due to significant survival of both adult and larval weevils.
Most alfalfa weevils overwinter as adults, become active as temperatures increase and lay eggs. As a reminder we are located in the area of the state where there may be two flushes of weevil larvae in the spring. In the last few years, some areas of the state have received damage to regrowth after the first cutting due to a combination of late larval feeding and adult feeding. This is something to be aware of after the first cutting.
While alfalfa weevil damage has been spotty in much of Nebraska over the past few years, the potential for damage always exists.
Alfalfa weevil damage consists of small holes and interveinal feeding on the newest leaflets near the stem tips. The larvae are small (1/16 to 3/8 inch long) and pale yellowish green, becoming a darker green when larger. These legless worms have black heads and a white stripe the length of the back. The alfalfa weevil larvae spend nearly all their time on the plant. They curl into a C-shape when disturbed.
Once the alfalfa is high enough to use a sweep net, take a sample to establish whether weevils are present. If they are, randomly select at least five sampling sites from across the entire field. At each site, gently pick or cut at least 10 alfalfa stems at ground level. Shake the larvae off the stems by beating the stems into a deep-sided bucket. Count the larvae and determine the average number of larvae per stem. Make sure to check for small larvae that may be enclosed in new, folded leaflets at the tips of the stems. Measure stem lengths and determine the average stem height. To determine is action needs to occur refer to the economic thresholds that have been developed to aid decision making on alfalfa weevil control. These thresholds were derived by North Dakota State University entomologists from a two-year study conducted at the UNL Eastern Nebraska Research, Extension and Education Center near Mead in 1990 and 1991. These guidelines can fluctuate depending on growing conditions and variety. The economic thresholds for alfalfa weevil can be found at cropwatch.unl.edu.
Because alfalfa weevil natural enemies (e.g., lady beetles and parasitoid wasps) have the potential to keep weevils from reaching economic injury levels, use insecticides only when necessary. Many insecticides are registered to control alfalfa weevil larvae. See the most recent edition of the Guide for Weed Management in Nebraska with Insecticide and Fungicide Information (EC130) for rates and restrictions of commonly used insecticides for alfalfa weevil larval control. They differ in their modes of action and pre-harvest intervals. If you have questions regarding insecticide selection and economic thresholds please reach out to your local extension office.
This has been Amy Timmerman with Nebraska Extension.
---